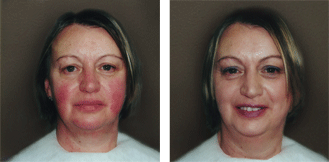 Rosacea
Camouflage
The Dinair coverage system completely neutralizes the appearance of discolorization with a few passes of the spraybrush. Conceal, without over correcting, for a completely natural look.
.
Note: Paramedical colors need to be cleaned up with alcohol.
We have found many people here in the United States and in England, needing our help with rosacea. This can be a very big dilemma for those with rosacea having fairer skin tones. Plus, they have very few opportunities for sun exposure and they are advised to stay out of the sun. Here's where both airbrush makeup artistry and safe air tanning techniques will create healthy looking natural skin colors and textures, so you can feel better throughout the year (even feel sexier!). Milky or more transparent skin tones will display a lot of redness and twill offer exposure of the capillaries.
Sensitive rosacea skin has challenging color and texture problems around the disrupted areas - yet they are very easily corrected with spraybrush artistry. So, the paramedical airbrush makeup and air tanning techniques allow you to evenly apply makeup and tanning colors safely to awkward areas anywhere on the body -- like the ears. Thus, you can even out the color of overly red or white ears. This is especially effective for those suffering from chronic skin inflammations, which noticeably has embarrassing episodes of the skin flaring up.
There are various types of rosacea. Some people will have a face that will shine red like a stoplight. Some have a highly visual pinkness that gets aggravated by exercises, bodily stress and extremes in temperatures. Some people, who think they have rosacea, don't necessarily have it. They may have another skincare condition. You can easily apply a Airtan™ air tanning product over rosacea to achieve a dramatic improvement. With Airtan™ airbrush makeup services, they can even eat spicy foods, go outdoors, swim and still look healthy. There are some people who have unusually sensitive blushing conditions in their skin, for which air tanning will minimize that embarrassment.
An advantage of pointillism is treating acne and eczema with the drug treatments -- is the fact that the sponged-on makeup tends to unevenly cover flaky skin and may noticeably increase the appearance of their condition. The pointillism covers the conditions evenly and does not increase the appearance of the condition, while also avoiding unsightly makeup buildups. When the skin is cracked, but not weeping, it is hard to cover until healed with sponge-applied makeup. Airbrush makeup does not require any physical pressure of contact or rubbing. It also does not collect buildups in this manner and the moisturizer is applied after the makeup. This makes for a very natural looking and more even coverage. The pointillism coverage allows the skin to breath, which is conducive to the healing process.
Sanitary and Germ Free • No brushes or sponges • Touch free application • Dropper dispensed colors • Dry on contact