About Dinair
Founded by Dina Ousley, award winning professional makeup artist and cosmetologist, Dinair is the originator of the airbrush makeup which revolutionized the cosmetics industry. For over 30 years Dinair has been the choice for salons and professional makeup artists worldwide and is the leading innovator of airbrush makeup, systems and accessories. Dinair has also provided professional airbrush makeup training since the 1980's to leading makeup artists all around the world.
Leading film and television makeup artists have been using Dinair for over 30 years. It is now even more popular because of the perfect compatibility with High Definition Television and photography. Dinair anticipated that everyone will be seen, filmed and photographed in HD and developed the first high definition, daily wear airbrush makeup.
Dina Ousley
Founder and president, former actress and Emmy Award Winning makeup artists founded Dinair. Her salon experience includes working as Paul Mitchell's salon assistant in NYC, and later as Warren Beatty's salon assistant in the movie "Shampoo." In 1989, Dina won first place in an international makeup competition using her airbrush makeup and Dinair began its journey into salons and spas around the world
George Lampman
Co-owner and CEO of Dinair, developed Dinair's unique lines of makeup and airbrush systems. He originated the concept of the very low-pressure makeup, and micro-pointillism (pixel-like) coverage. These technical and artistic breakthroughs opened the way for the modern airbrush makeup era.. He also designed the hands-on workshops and training techniques to teach these advanced techniques.
Harper's Bazaar
"We can make an average person look like a model. This product is an equalizer, because the things that make one person less attractive than another are actually very small. I believe that the idea of who's beautiful and who's not will dissolve in the next century."
George Lampman.

Dina and George
Dina and George have been a personal and professional team for nearly 30 years. Their creative collaboration is alive and well, with many new products on the way
Mission
Dinair's mission is to create a wave of awareness, that the beauty barrier of rub-on liquids and minerals has been shattered forever. The systems and techniques we perfected for celebrities and professional makeup artists are now being made available to everyone. We create loyal customers by empowering them to achieve new levels of personal beauty. We are creating a happier more beautiful world, one person at a time.
Future of Dinair
The future of Dinair is in homes across America. Fortunately the desire to be beautiful is not in recession and Dinair is experiencing record growth. With new colors arriving every month and the high definition media expanding, Dinair's future looks great. Now is the time to join Dinair and reap the benefits of Airbrush Makeup and the revolution.
Dina Ousley has been featured on such television programs as "Access Hollywood", "The Other-Half", CNN, Fox News, Inside Edition and "To Tell the Truth". Publications such as Vogue, Newsweek, People, the LA Times, Allure, In Style, The Enquirer and many other leading women's beauty magazines have also profiled Dina and her ground breaking Dinair Airbrush Makeup System.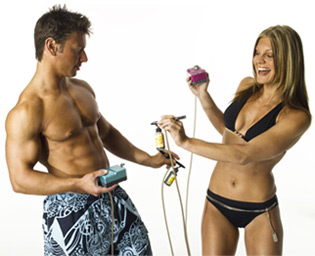 Dinair has developed AIRTAN™ a streak-free, natural-looking golden tan that looks like a real tan and fades like a real tan without exposing yourself to hours of damaging UV rays which can cause burning, premature aging and even skin cancer. AIRTAN™ applies easily and evenly, absorbs quickly and dries in less than 5 minutes. You see the temporary tan color appear as you spray. It will not rub off on clothes or bed sheets. The final effect will last up to ten days as the skin slowly exfoliates off the dead skin tissue. The Dinair AIRTAN™ is a "feel good" product that allows you to wear what you want, when you want! Dinair AIRTAN™ WILL GIVE YOU INSTANT BEAUTY all year round!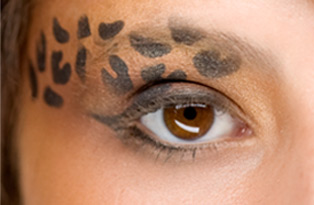 Dinair Makeup has been used for over 2 decades by leading motion picture and television professional makeup artists.

Dinair spray-on makeup has terrific coverage and results that really can not be achieved with conventional makeup techniques
Dinair Institute
Dinair teachers are the world's leading airbrush makeup experts. Dinair originated airbrush makeup for daily wear, glamour, high definition, paramedical and camouflage. Dinair has taught Professional Airbrush Makeup training classes and workshops for over 30 years in the USA, Canada, Europe and Asia. Professional makeup artists learn how to airbrush foundation, cheeks, eye shadow, eyeliner, eyebrows, and lips using Dinair's unique high definition coverage techniques. We also teach how to camoflauge paramedical problems, covering tattoos, body art, and fantasy. Dinair consultants (graduates) achieve new career defining skills. You will learn much more than you ever expected and be even better than you hoped.