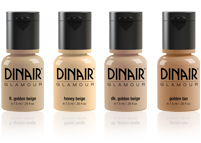 EXPERIENCE

THE RESULTS FOR YOURSELF!

Unlike traditional makeup, airbrushing sprays a fine mist so the makeup blends evenly on the skin. Our foundations provide the flawless coverage of your preference (from sheer to opaque) and minimizes skin imperfections. The result is a beautiful and natural finish.
High-Def Close Ups
Celebrities and fashion models use our makeup because it doesn't look like makeup!
Dinair Has You Covered
Covers discoloration, blemishes, and even dark circles! You'll look brilliant at any time of day.
Flawless In Record Time
Speedy application, imagine the time you'll save!
All Day Coverage,Everyday
Long lasting: No more touch-ups throughout the day!
Hygienic + Less Wasteful
No more contaminants on your skin from makeup tools. Use less makeup for full coverage.
Dinair Lifetime Support
With our FREE DVD, online education, and phone support, get to know us more in seconds!